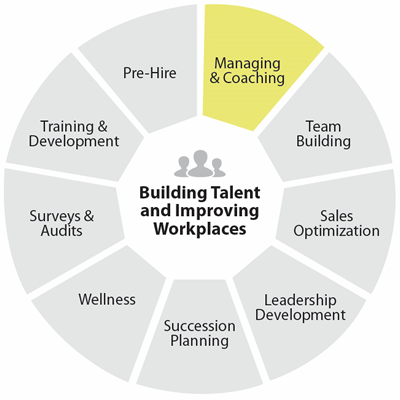 MANAGING & COACHING
Lead Instead of Merely Manage
All employees—from entry-level hires to experienced C-level executives—thrive in a business environment that plays 
to their unique strengths, motivations, personality traits, attitudes, and abilities. Using assessments and learning solutions from AL, you can leverage these untapped qualities in your employees and bring out the best in everyone. Armed with assessment data from AL, you can
Craft customized employee career paths
Identify skill gaps and create targeted training solutions
Discover future leaders and nourish their potential for growth
Increase employee loyalty engagement
Achieve higher productivity
Browse Our Managing & Coaching Products Below
The Five Behaviors® Personal Development assesses an individual's approach to teamwork, provides personalized insights on how they can more effectively work with others, and teaches participants the critical behaviors and interpersonal skills needed to work together effectively.
Learn More
Get a Quote
By combining the personalized insights of DiSC® with active emotional intelligence development, participants discover an agile approach to workplace interactions and learn to navigate outside their comfort zone, empowering them to meet the demands of any situation. In this half-day training, participants will discover their EQ strengths, recognize their EQ potential, and commit to customized strategies for building agility. The result is an emotionally intelligent workforce that can support your thriving agile culture.
Learn More
Get a Quote
Everything DiSC is a research-validated personality assessment that helps you build more effective working relationships based on an understanding of your behavioral style and those of others. Click here to learn about the best-in-class Everything DiSC solutions we offer.
Learn More
CheckPoint 360°™ is a 360-degree leadership assessment used to help managers identify and prioritize their own development opportunities and leadership skills.
Learn More
Get a Quote
View Sample Report
PXT Select™ helps fill the gap between the resume and the interview. It provides organizations with actionable objective data about candidates in a simple to understand format that can help you to interview better and hire smarter. It is an online selection assessment that measures a candidate's cognitive abilities, behaviors, and interests.
Learn More
Get a Quote
View Sample Report
Everything DiSC Work of Leaders focuses on one unified model of leadership—vision, alignment, and execution—to help leaders understand their own leadership styles and how their tendencies influence their effectiveness in specific leadership situations. This program approaches leadership as a one-to-many relationship (as opposed to the one-to-one relationship explored in Everything DiSC Management).
Learn More
Get a Quote
View Sample Report
Profiles Managerial Fit™ is a powerful tool that measures critical workplace compatibility factors between managers (executive, director, supervisor, team leader, etc.) and their employees.
Learn More
Get a Quote
The Profiles Performance Indicator™ (PPI) is used primarily for motivating, and coaching employees, and resolving post-hire conflict and employee performance issues.
Learn More
Get a Quote
View Sample Report