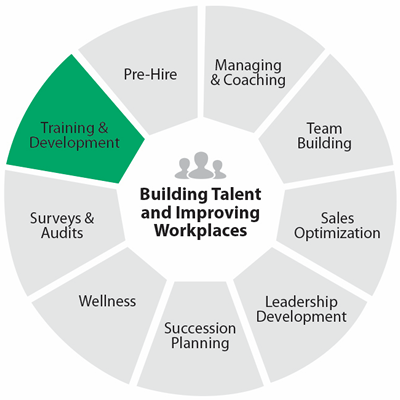 Training & Development
Learn and grow
In today's organizations, employees are always juggling competing demands on their time. Companies struggling with cost constraints must consider direct and indirect training costs—downtime of employees leaving their workspace to take training on fixed schedules, travel expenses, trainer time and printed materials, and potential lost opportunity costs—all with few guarantees that the employee even understood the training and would be able to use it effectively.
With elearning products from AL, employees can learn at their own pace without leaving the workplace, fit training around their workload, and repeat areas that they find difficult without slowing down those who already understand the material. This means they will learn more, training will be much more efficient, and less hours of will be lost while training.
AL's eLearning products are:
Convenient: Online training can be completed from work, home or on the road
Relevant: Courses deal with the most current topics and business objectives
Affordable: Affordable online training eliminates travel expenses and can be up to 93% cheaper than instructor-led courses.
More effective: Employees learn at their own pace, so learning retention rate is higher than in a classroom setting.
Blended Learning
With the Blended Learning approach, eLearning provides a format that includes monthly, year-long, follow-up sessions to maximize an organization's budget and team development. This approach is an artful combination of classroom seminar training and online training, bringing the best of both worlds and minimizing leaders' time away from their desks and their teams. Blended learning gives participants the most powerful and personal learning experience possible. By combining classroom and online methods, participants can learn at their own pace, practice in a safe coaching environment, and use the company's troubleshooting guide and extensive resources, which are designed to reinforce continued learning. 
Assessment Leaders' partner company, Leadership Balance, offers these blended learning sessions as well as 
Executive coaching
Keynotes
Offsites and retreats
Leadership leadership
For more information on the services and programs offered by Leadership Balance visit their website here.
AL provides enterprise-level elearning solutions.

As a partner with the world's leading elearning provider, Skillsoft, AL provides high-quality, cloud-based learning and performance support resources for enterprise-wide clients.
Browse Our Training & Development Products Below
The Five Behaviors® Personal Development assesses an individual's approach to teamwork, provides personalized insights on how they can more effectively work with others, and teaches participants the critical behaviors and interpersonal skills needed to work together effectively.
Learn More
Get a Quote
Everything DiSC® Productive Conflict helps learners improve self-awareness around conflict behaviors. Rather than focus on a step-by step process for conflict resolution, Everything DiSC® Productive Conflict helps learners curb destructive behaviors so that conflict can become more productive, ultimately improving workplace results and relationships.
Learn More
Get a Quote
View Sample Report
Skillsoft, we provide high-quality, cloud-based learning and performance support resources for enterprise-wide clients.
Contact Us