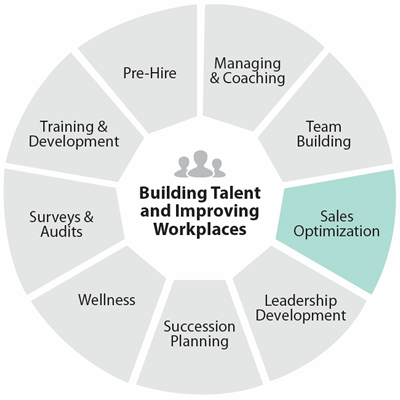 Sales Optimization
Sell More
Let AL help you improve sales performance and increase revenue. We can help you maximize sales in two ways:
With quick, easy to use tools to match the right people to the right sales positions

Benchmark your current top performers
Create detailed consolidated job profiles
Assess candidates for the specific qualities found in your top performers
Hire and advance those candidates most likely to succeed
Reduce turnover, absenteeism, and lost opportunities
Increase revenue
Identify and advance potential sales managers

Through our exclusive partnership with The Sales Conservatory, we offer full-service sales enablement consulting.

Live or live-virtual sales skills training
Custom sales competency models
Custom sales performance metrics assessments & analysis
Internal Sales Process improvement
---
"AL's hiring tools help us identify motivated salespeople who can actually sell and are also a positive fit in our culture. As a result, our turnover has completely diminished, and our sales productivity has significantly improved." 
Doug Thurston, Vice President of Sales, PakSense, Inc.
2016 Presidential Award for Export Success
Browse Our Sales Optimization Products Below
The Profile XT (PXT) is a multi-purpose "Total Person" assessment that measures 20 performance indicators that are used for selection, development, training, promotion, managing and succession planning.
Learn More
Get a Quote
View Sample Report
The Job Fit assessment will ensure that the applicant has the necessary basic experience and background, as well as the core traits and attitudes, that you have found to be predictive of success in that specific job.
Learn More
Get a Quote
View Sample Report
Contact a sales enablement expert who can build a world-class, custom sales enablement solution to fit your specific needs. info@salesconservatory.com - 719.428.5094
Contact Us