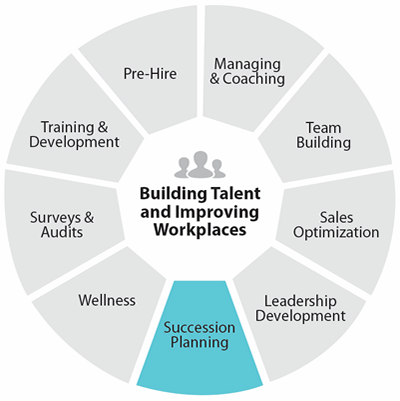 SUCCESSION PLANNING SERVICES
Secure Your Future
A sound succession plan today spells success for tomorrow. Remain in control when critical headcount is in flux by preparing and maintaining a comprehensive succession plan before it's time to fill the next key position.
Our succession planning services will help your organization articulate the most important success factors for a position, identify candidates who are on that trajectory, and evaluate their readiness to accept the next challenge in their career. AL assessments provide crucial information that help identify and develop top talent so that you can craft a solid succession planning program.
Thoughtful succession planning supports many long-term business requirements including
Business continuity
Management longevity
Decision-making
Process transparency
Team effectiveness
Employee engagement
Better relationships at all levels
Positive culture development
Browse Our Succession Planning Products Below
Everything DiSC is a research-validated personality assessment that helps you build more effective working relationships based on an understanding of your behavioral style and those of others. Click here to learn about the best-in-class Everything DiSC solutions we offer.
Learn More
CheckPoint 360°™ is a 360-degree leadership assessment used to help managers identify and prioritize their own development opportunities and leadership skills.
Learn More
Get a Quote
View Sample Report
PXT Select™ helps fill the gap between the resume and the interview. It provides organizations with actionable objective data about candidates in a simple to understand format that can help you to interview better and hire smarter. It is an online selection assessment that measures a candidate's cognitive abilities, behaviors, and interests.
Learn More
Get a Quote
View Sample Report
Profiles Managerial Fit™ is a powerful tool that measures critical workplace compatibility factors between managers (executive, director, supervisor, team leader, etc.) and their employees.
Learn More
Get a Quote