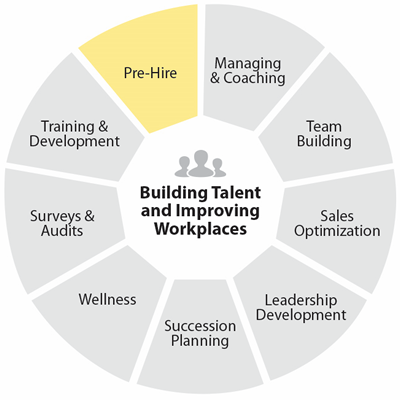 Pre-Employment Assessments
Hire Based on Science, Not Gut
Experts estimate that the cost of a bad hiring decision— measured in high turnover, lost opportunity, damaged reputation, and more—can range from 20 to 200 percent
 of a year's salary. The stakes are simply too high to rely on 
gut decisions or traditional methods alone. Use Assessment Leaders' scientifically developed and validated assessments to
Reduce the risks associated with hiring
Weed out poor candidates before the interview process
Reduce turnover and absenteeism
Minimize employee theft and dishonesty
Reduce training costs
Achieve higher productivity
Improve customer satisfaction
Improve teamwork
---
"I have used Assessment Leaders for the past several years in support of my hiring decisions. I appreciate that I have tangible evidence of job fit before making an offer. Sometimes it's hard to know if a candidate will have the skill set, ethics and personality to be successful in my organization. The tools offered by Assessment Leaders allow me to better and clearly assess these traits. They are responsive, flexible and creative. They take so much of the guess work out of hiring and I appreciate having them on my team!"
Katherine Filice, Executive Creative Director, CEO, Articulate Solutions, Inc.
Browse Our Pre-Hire Stage Products Below
PXT Select™ helps fill the gap between the resume and the interview. It provides organizations with actionable objective data about candidates in a simple to understand format that can help you to interview better and hire smarter. It is an online selection assessment that measures a candidate's cognitive abilities, behaviors, and interests.
Learn More
Get a Quote
View Sample Report
The Job Fit assessment will ensure that the applicant has the necessary basic experience and background, as well as the core traits and attitudes, that you have found to be predictive of success in that specific job.
Learn More
Get a Quote
View Sample Report
Skills assessment couldn't be easier than with eSkill, the market leader in customizable online tests that fit specific job requirements for the highest job relevance.
Learn More
Get a Quote
Profiles Managerial Fit™ is a powerful tool that measures critical workplace compatibility factors between managers (executive, director, supervisor, team leader, etc.) and their employees.
Learn More
Get a Quote
Background Checks cover a range of traditional and custom services to meet the needs of your organization.
Learn More
Get a Quote