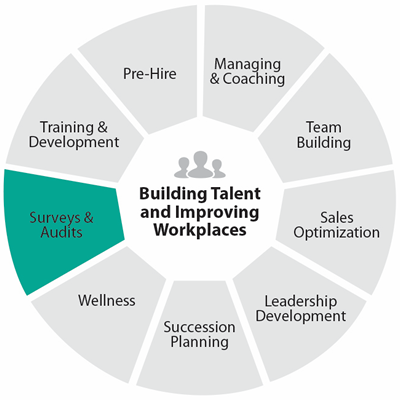 ORGANIZATIONAL PERFORMANCE SURVEYS & AUDITS
Do you have the information you need about all aspects of your organization's culture to ensure success?
The face of the workplace is changing rapidly.  Here are just a few workplace realities [1]:
In fewer than 10 years, nearly half the working population will be Millennials.
88% of Gen Y considers positive culture to be essential for a dream job.
By 2020 there will be 5 generations in the U.S. workforce.
Fewer than 1 in 3 American workers are committed to the success of their organization and are engaged in their work.
How will you ensure your leadership knowledge, skills, and abilities are ready for the emerging workforce? How will you measure and track your employee culture and sentiment? AL offers a series of assessments from their sister company, Leadership Balance, that provide actionable insight that you can use to create a roadmap to navigate the changing realities of the workplace to optimize organizational performance.
In addition to the Leadership Balance tools described below, AL can work with you to create a custom survey or audit to regularly measure and respond to opportunities for growth in the areas of leadership, HR, and organizational health and culture. If you are not sure what your employees are thinking, now is the time to ask.
[1] Source: http://xyzuniversity.com/scary-workforce-stats/
Browse Our Surveys & Audits Products Below
The LBq measures leadership readiness across three major dimensions – Mind, Will, and Heart – which provides a "whole person" view of leadership readiness.
Contact Us
The LCq gives you a clear picture of your organization's culture, identifies behaviors in your culture that either energize or inhibit organizational change, and provides direction on long-term, sustainable development.
Contact Us
The OHq provides insight into a variety of growth and opportunity areas for developing a healthy, high-performing organization by measuring employee sentiment on eight dimensions.
Contact Us
Let's talk to see how we can help you customize the perfect solution for your organization