Assessment Leaders Authorized Partner Program
Helping you expand your business and add greater value to your clients.
INTRODUCTION
As business owners and consultants, it's difficult to stay current with the latest trends in your product offerings. As part of our Partner Program, you can leverage your existing product-line and combine it with Assessment Leaders' extensive options to expand your reach, serve your customers, and grow your business.
What You Do
As an AL Partner, you will be able to capitalize on the growing assessment and eLearning market to deepen existing relationships, develop new customers, accelerate sales, and grow revenue by offering robust, thoroughly validated solutions.
When you recommend the right solutions for your clients, you reinforce your reputation, build stronger relationships, and win repeat business. You're already a trusted and valued expert. Take it the next step and help your clients identify, solve, and prevent common pitfalls surrounding hiring, managing, training, teamwork, sales, promotion, and well-being.
Our Partners
Professional Coaches
Trainers
Workshop Facilitators
Business Consultants
Organizational Development
Professionals
Leadership Advisors
Human Resource Professionals
Teachers

"Our rapid growth outstripped our in-house talent acquisition and managment capabilities. The AL team did a fantastic job helping Big Fix scale our HR functions."
– DAVE ROBINS
Former CEO, BigFIx
(now an IBM company)
PARTNER PROGRAM TRACKS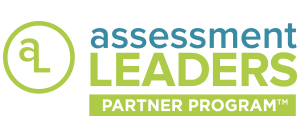 SERVICE PARTNER
The Service Partner track recognizes your role as a trusted advisor to your clients and empowers you to provide a value-added service around AL products. You can experience significant cost savings by accessing AL's existing network of top line product vendors and partners.
The Service Partner Program lets you become trained in specific practice areas – areas that can open additional business opportunities with new or existing clients. These may be areas where your organization already excels or is looking to add specific expertise.
In summary, you purchase the products at a discount and use them to better-serve your clients (we do not work directly with your clients).
REFERRAL PARTNER
With no upfront investment, the Referral Partner track is an easy and seamless way to grow your revenue. Recognizing new business opportunities, you can receive compensation for referring it to the trusted experts at AL. We'll provide the product expertise, close and deliver the solution, and send you a commission check.