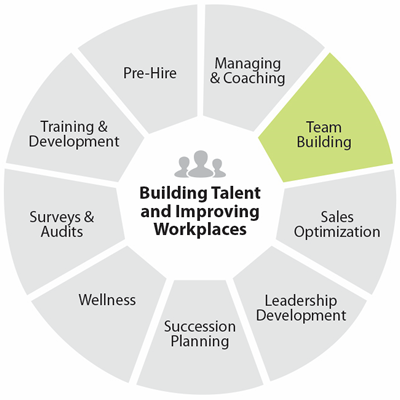 TEAM BUILDING
Forge Strong Teams with Our Corporate Team Building Experts 
With Assessment Leaders, you can turn a room full of talent into a harmonious, productive, and successful team.
We've all seen it before: a group of talented, smart, and well-paid individuals that simply do not play well together or deliver as a team. They look good on paper, but fail to collaborate effectively or achieve any meaningful goals.
Assessment Leaders has assembled a series of user-friendly, cost effective assessment solutions to help you forge a group of smart people into a team that achieves big results.
Using team building assessment solutions from AL you can
Increase team focus on high-value activities
Reduce friction among team members
Harmonize employee relations
Increase team productivity
Achieve better meeting outcomes
Improve customer satisfaction
Browse Our Team Building Products Below
The Five Behaviors® Personal Development assesses an individual's approach to teamwork, provides personalized insights on how they can more effectively work with others, and teaches participants the critical behaviors and interpersonal skills needed to work together effectively.
Learn More
Get a Quote
By combining the personalized insights of DiSC® with active emotional intelligence development, participants discover an agile approach to workplace interactions and learn to navigate outside their comfort zone, empowering them to meet the demands of any situation. In this half-day training, participants will discover their EQ strengths, recognize their EQ potential, and commit to customized strategies for building agility. The result is an emotionally intelligent workforce that can support your thriving agile culture.
Learn More
Get a Quote
Everything DiSC® Productive Conflict helps learners improve self-awareness around conflict behaviors. Rather than focus on a step-by step process for conflict resolution, Everything DiSC® Productive Conflict helps learners curb destructive behaviors so that conflict can become more productive, ultimately improving workplace results and relationships.
Learn More
Get a Quote
View Sample Report
Patrick Lencioni Five Behaviors of a Cohesive Team is an assessment-based learning experience that helps individuals and organizations reveal what it takes to build a truly cohesive and effective team in the most approachable, competent, and effective way possible.
Learn More
Get a Quote
View Sample Report
Everything DiSC is a research-validated personality assessment that helps you build more effective working relationships based on an understanding of your behavioral style and those of others. Click here to learn about the best-in-class Everything DiSC solutions we offer.
Learn More
CheckPoint 360°™ is a 360-degree leadership assessment used to help managers identify and prioritize their own development opportunities and leadership skills.
Learn More
Get a Quote
View Sample Report
Everything DiSC Work of Leaders focuses on one unified model of leadership—vision, alignment, and execution—to help leaders understand their own leadership styles and how their tendencies influence their effectiveness in specific leadership situations. This program approaches leadership as a one-to-many relationship (as opposed to the one-to-one relationship explored in Everything DiSC Management).
Learn More
Get a Quote
View Sample Report