Everything DiSC Solutions

EVERYTHING DiSC SOLUTIONS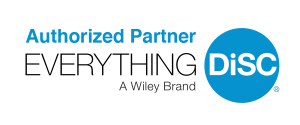 AL is an independent Everything DiSC Authorized Partner. Everything DiSC is the original source for DiSC® Profiles. DiSC is a research-validated personality assessment that helps you build more effective working relationships based on an understanding of your behavioral style and those of others. Everything DiSC allows you to
Understand your own behavior
Learn how and when to adapt your behavior
Improve communication
Promote appreciation of differences
Enhance individual and team performance
Reduce conflict 

Create and maintain client relationships
Everything DiSC targets your general behavioral and personality characteristics, which includes your strengths, your behavioral overview, your motivating factors, your preferred environment, things you tend to avoid, strategies to increase your effectiveness and success, factors that reduce your motivation, insight about your behaviors in conflict situations, and coaching and action planning questions.
---
"Our entire staff has taken the DiSC assessment through Assessment Leaders and completed a group analysis. Cathy Light created a scatter graph which showed that we have a well-balanced team. This enables us to utilize and appreciate all of our strengths to assist our customers. Most recently, I worked with Cathy on a hiring decision in our sales department. Cathy recommended a DiSC test that was specific to sales. I was able to benchmark the candidates' strengths against the team as a whole and the bench strength of the sales team. The personalized analysis helped me to choose the best candidate for the team and for the future." 
Tressa McLaughlin, President/CEO, Safeguard by IBF
Browse Our Everything DiSC Solutions Products Below
By combining the personalized insights of DiSC® with active emotional intelligence development, participants discover an agile approach to workplace interactions and learn to navigate outside their comfort zone, empowering them to meet the demands of any situation. In this half-day training, participants will discover their EQ strengths, recognize their EQ potential, and commit to customized strategies for building agility. The result is an emotionally intelligent workforce that can support your thriving agile culture.
Learn More
Get a Quote
Everything DiSC® Productive Conflict helps learners improve self-awareness around conflict behaviors. Rather than focus on a step-by step process for conflict resolution, Everything DiSC® Productive Conflict helps learners curb destructive behaviors so that conflict can become more productive, ultimately improving workplace results and relationships.
Learn More
Get a Quote
View Sample Report
Everything DiSC Workplace delivers a personalized learning experience to help participants understand and appreciate the different priorities, preferences, and values each individual brings to the workplace, and how they can learn to adapt to the style of others.
Learn More
Get a Quote
View Sample Report
Everything DiSC Sales offers an easy-to-customize development solution to help participants discover new strategies for stretching beyond their natural preferences to make the selling process more productive and successful—regardless of the customer's unique buying style.
Learn More
Get a Quote
View Sample Report
Everything DiSC Management offers participants information on how their management style influences how they manage time, make decisions, approach problems, and what they need to do to adapt to the styles of others to bring out the best in each and every employee in their charge. This profile approaches management as a one-to-one relationship.
Learn More
Get a Quote
View Sample Report
Everything DiSC Work of Leaders focuses on one unified model of leadership—vision, alignment, and execution—to help leaders understand their own leadership styles and how their tendencies influence their effectiveness in specific leadership situations. This program approaches leadership as a one-to-many relationship (as opposed to the one-to-one relationship explored in Everything DiSC Management).
Learn More
Get a Quote
View Sample Report
DiSC Supplemental Reports and Follow-Up Tools
Note: A prerequisite to develop these reports is purchasing one of the Everything DiSC Solutions
Everything DiSC Team View
An at-a-glance view of an unlimited number of respondents and their individual Everything DiSC maps.
View Sample Report
Everything DiSC Group Culture Report
Examines the Everything DiSC culture of a group, exploring the advantages and disadvantages of each style, its influence on decision making and risk taking, and its effect on group members individually—based on different Everything DiSC styles.
View Sample Report
Everything DiSC Comparison Report
Report illustrates their similarities and differences of any two participants, with potential roadblocks in working together, and practical tips for improving their working relationships.
View Sample Report
Everything DiSC Facilitator Report
Provides a composite of your group's DiSC styles and information on how DiSC styles can impact your organization's culture. Includes the names and styles of each participant.
View Sample Report